Winter time...thoughts of snuggling up on the sofa with a hot chocolate by an open fire come to mind. Unfortunately, Winter also heralds a cold snap in the air that can wreak havoc with our complexion. Skin can become aggravated by the cold and signs of dryness, redness and irritation can appear. There is also the drying effects of indoor heating that gets amped up in the Winter.
Whatever you skin type, adding a Serum to your routine, especially in Winter, is hugely beneficial. Unlike moisturisers, serums are packed with active ingredients that penetrate deep into the skin's layer. Regular use can help keep your skin hydrated, firmer, smoother and with a youthful glow, even in Winter!
What are the benefits of using a Serum?
Kinvara Skincare's 24hr Rosehip Serum is an Award Winning Multi-Tasking Serum that helps combat the first signs of aging, while also adding a layer of hydration and an instantly more luminous look. It is a powerful natural formula that is packed with plant extracts, vitamins, hydrators and antioxidants such as Vitamin E & Rosehip Seed Oil.
How often should I use a serum?
A serum can be used every morning, night or both, depending on your skin type. If you have oily/combination skin, we recommend that you start using Kinvara Skincare's 24hr Rosehip Serum as a Night Treatment first and see how that goes before using day and night. All other skin types, can use it every night and/or layered UNDER your moisturiser during the day. As always, listen to your skin and apply it when you need it!
How much serum do I need to apply?
Use 1- 2 pumps of Kinvara Skincare's 24hr Rosehip Serum as needed for your skin type. As it is a concentrated formula of active ingredients, a little goes a long way! In fact, one bottle of 24hr Rosehip Serum will last up to 6 months.
What Skin Types is it suitable for?
Acne-prone: It will help treat and calm any redness and irritation of problem skin such as Eczema, Psoriasis or Acne.
Dry Skin: It acts as a super hydrator for Dry Skin giving deeply nourishing results.
Oily/Combination Skin: It acts as the perfect Night Treatment to help balance pores and nourish the skin deep down.
Normal Skin: It adds a luminous glow and helps target wrinkles and fine lines.
Aging Skin: The active ingredients work deep down to rejuvenate aging skin.
Top Tips
Always apply onto thoroughly cleansed skin so the active ingredients can be more effective.

Always apply to DAMP SKIN as moisture helps to absorb the serum.

Always apply serum BEFORE your moisturiser and AFTER an eye serum.

Remember, less is more. 1-2 pumps is enough.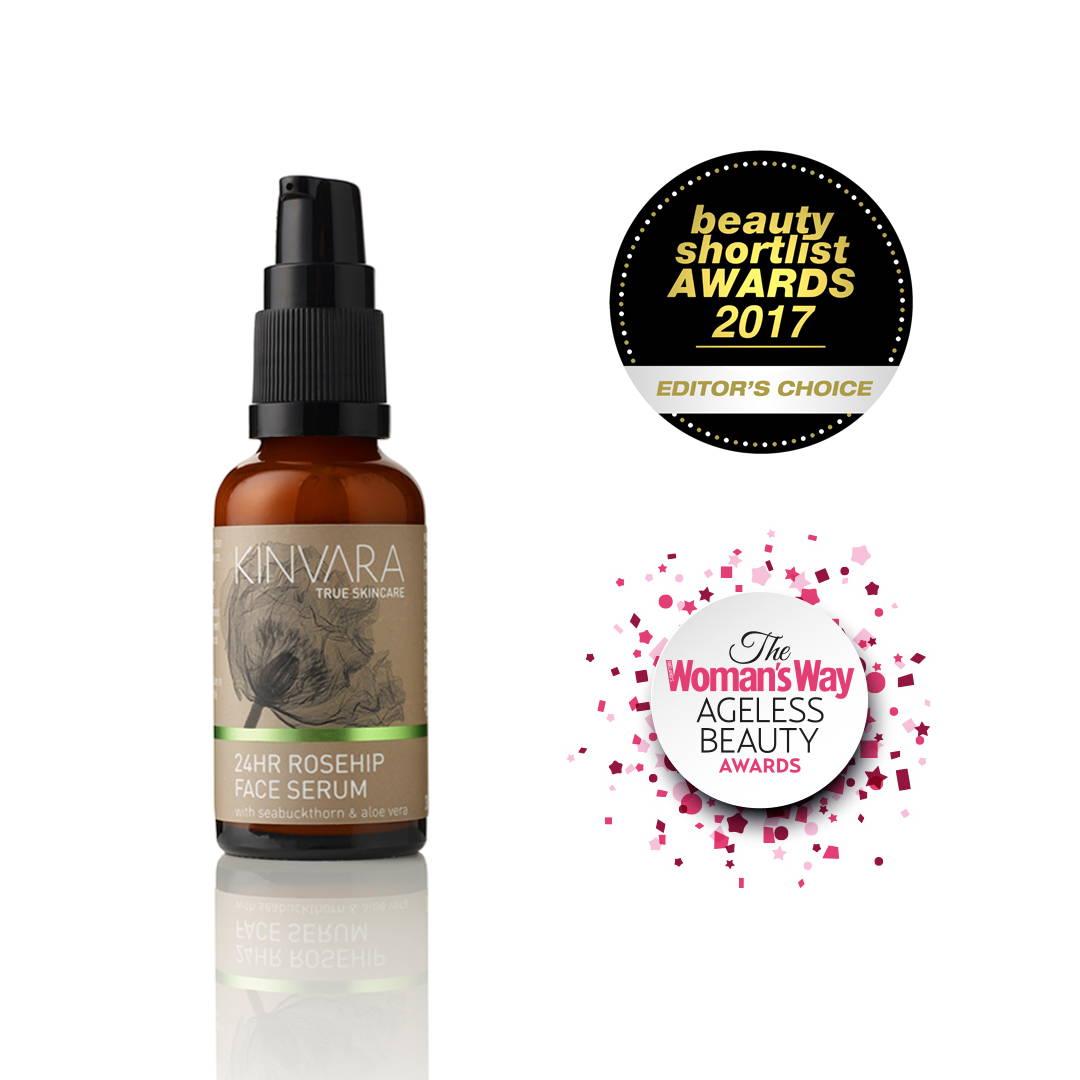 Why choose 24hr Rosehip Serum?
Award Winning Serum

100% Natural with Active Plant Extracts

No Parabens or SLS

Cruelty Free & Vegan

Dermatologically Tested

Non-Comodegenic
Click here to purchase or to find out more about 24hr Rosehip Serum. Get 15% Off your first order with Kinvara Skincare when you sign up to an account with us online!
Testimonials
"This Serum is just delectable, it nourishes and leaves you skin feeling so soft"  Sandra H.
"Love using this serum, gave a great glow to my skin and smells so fresh. I would definitely recommend this product - Just love it!"  Vivienne M.
"I've tried so many different products but none come close to the 24hr Rosehip Serum. I absolutely love it and my skin has never looked better. Thank you Kinvara for making a fifty something woman very happy. I have passed on my Kinvara wisdom to my daughter who lives in Australia and she uses nothing else now."  Berni Butler