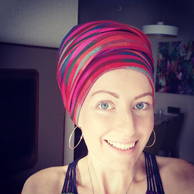 What is your skin type?
Combination
2. What is your age range?
25-35
3. What are your skin concerns?
Dry patches on my cheeks and rosacea.
4. What are the pros of the products?
Very natural feeling, lovely smell esp the serum, the actually work – dry patches and rosacea gone, love the packaging, organic, not tested on animals, good price.
5. Is it very important that the products are all natural?
Yes definitely for me, I try to live a toxin free life so I wouldn't use them if they weren't.
6. What Kinvara Skincare products do you use?
All of them. Bring out more please!
7. What is your Kinvara skincare routine?
Cleanse with the oil most nights and then apply eye and face serum. In the morning its, eye serum, face serum and day cream.
8. What difference did you notice in your skin after using Kinvara?
Dry patches went away and rosacea disappeared. Used to get it after a shower but don't any more.
9. What do you love about using the products?
The smell, the feel of the serum especially, the feeling of taking off a face full of make up with the oil and a hot cloth, like a spa experience.
10. Had you tried many other products prior to using Kinvara?
Lots but none that I stuck to religiously. Used to change them all the time. Never really found one I loved that I would buy again.
11. How does your skin feel after using the products?
Smooth, soft, plump.
12. What tips would you give to someone else using the products?
Use the hot cloth with the oil. Use 2 pumps of the face serum, one isn't enough – I'm good to myself that way!
13. Do you think it offers value for money?
All except the serum, I go through that too quickly. I suppose I do use 4 pumps most days!
14. How likely are you to recommend the product to a friend?
100% recommend. I buy it for my friends for presents now. I'll convert them all yet!
15. How did you come across Kinvara Skincare?
In my local healthfood shop healthy beings in Strokestown. Teresa recommended the day cream. I loved it so I bought the serum, then the oil and then the eye serum. Have re-purchased many times.