Halloween wouldn't be Halloween without having pumpkins, face painting and apple bobbing!! As the crisp weather rolls in our skin needs all the extra nourishment it can get. As it turns out, pumpkins are amazing for your skin, but we already know this as our Eye WOW serum contains pumpkin!
So why not use this super food as the main ingredient in a quick and easy face mask!
Ingredients
Pumpkin: which is high in zinc and vitamins A and C that rejuvenate skin, removing all the dead skin cells to brighten up the skin.
Honey: This works wonders for dry skin, it not only acts as a humectant, but also gives antiseptic properties through the natural sweetener.
Milk: The combination of milk and honey

gives you an instant glow as soon as you wash it off!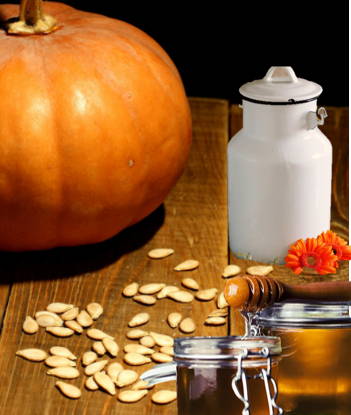 Mask
Cleanse with clean skin and remove all makeup.

Whisk together about 2tbsp of the pureed pumpkin with ½ tsp of organic honey and ½ tsp of almond milk.

Use all of the mixture to cover your face and neck, let sit for 15 to 20 minutes, and rinse off with a warm face cloth for a more refreshed complexion.

Next, apply your favourite Kinvara Skincare product!