Skincare products need to be layered in the right order to maximise their benefits and to ensure that they do not cause any irritation. As a rule of thumb, thinner products are always applied first so for example, always apply serums which are generally lighter before moisturisers. Also, eye serums are often lighter than face serums, so they should be applied first. Confused yet?
Kinvara Skincare now has 6 facial products and here's how you need to order them in your skincare routine to get the best results from them;
1. First, use Kinvara Skincare's Absolute Cleansing Oil to cleanse your skin and to remove all traces of makeup. Cleansed skin absorbs other skincare products more effectively so it's important to take the time to ensure your skin is perfectly clean. A Hot Cloth Cleanse is one of the most effective ways to ensure that all dirt and dead skin cells are removed gently.
2. Next, use Kinvara's Elemental Exfoliating Powder to slough away dulling, dead skin cells, residual makeup and any spf that may still be on your skin. Remember, an exfoliator is NOT a cleanser and has a specific role to exfoliate your skin so never miss the first step to cleanse your skin when using an exfoliator. We also recommend exfoliating your skin about once a week. Some exfoliators can be harsh on the skin, so by choosing a natural, gentle powder like Kinvara's with gorgeous skin loving seaweeds, Vitamin C and plant extracts, you're ensuring that you're not aggravating your skin.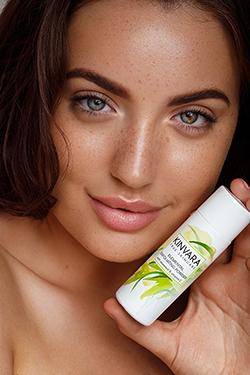 3. Then use Kinvara Skincare's Eye Wow! Eye Serum. Eye serums are much lighter than face serums as they target the delicate eye area. Gently roll the serum from the outer corner of the eye inwards. The light plant packed gel absorbs quickly and it begins to work straight away!
4. Apply Kinvara's Hyaluronic Youth Boost to target fine lines in the brow, frown and lip area. Apply 1-2 pumps of Kinvara Skincare's 24hr Rosehip Serum to a damp face and massage in gently.
5. Next, dab a 20c amount of Kinvara Skincare's Active Rosehip Day Cream to the back of your hand first. Layer it on face and neck in a gentle, upwards motion which we find aids circulation. It absorbs superfast to a matte finish making it an ideal base for make-up.
Top Tips
Do the Touch Test in between applying topical products. If your face feels sticky, wait another minute for the product to fully absorb before applying the next product.