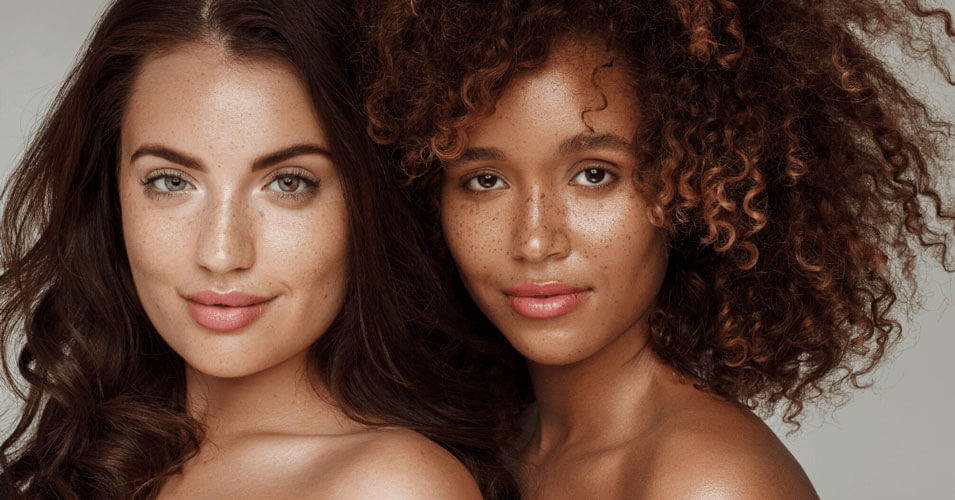 With so many skincare products on the market, it can be daunting to know what to use and expensive!
Also, using too many products on your skin, especially anti-aging products, can actually lead to irritation. So, what are the three essentials or the basics that you should use for your skincare routine?
1. Cleanser
Cleansing your face is the most important step in your skincare routine. For healthy, glowing skin, it's crucial to remove oil, makeup and any residual dirt from the day with a cleanser so that you can help your skin renew and refresh itself. Sleeping with your makeup on, the cardinal sin of skincare, can actually encourage breakouts and will certainly give you dull, lifeless skin in the morning.
We recommend using a gentle cleanser that will clean your skin thoroughly, with no harsh ingredients such as surfactants, alcohol, detergents, or solvents. You also want a cleanser that will work with your skin and not against it and that's why we recommend using Kinvara's Absolute Cleansing Oil which is formulated with 100% pure plant oils. Super gentle, it literally melts makeup and mascara away while helping to balance your skin. It's suitable for all skin types, even oily and combination skin, as the oils actually lift any 'bad' oil away and will over time help balance oil production in your skin.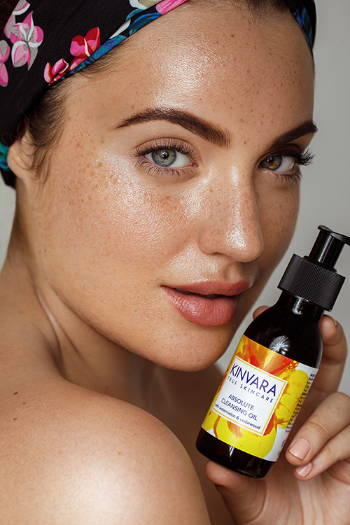 2. Serum
Serums are much lighter in texture than a moisturiser, yet they generally contain a more concentrated blend of active ingredients. Serums are incredible at supercharging the skin with antioxidants, vitamins and hydrating properties that penetrate deep into the skin. Who doesn't want that? Regardless of your skin type, you will reap the benefits of using a serum and the right serum can actually double as your night cream too. Serums are typically worn under your moisturiser. As a rule of thumb, always apply the thinnest product first in your routine and serums are generally lighter in consistency.
Of course, not all serums are created equal. Look for a serum with the most concentrated blend of beneficial ingredients. Mil for mil, Kinvara's 24hr Rosehip Face Serum has more plant extracts in it than most serums 4 or 5 times the price. It's a super concentrated product packed full of vitamins and essential fatty acids that are really going to super hydrate, calm and brighten your skin instantly. Two of the ingredients, Sea Buckthorn and Carrot Seed Oil, are carbon dioxide extracts which are the creme de la creme of extracts and the best way to take plant goodness out and put it in a product. Only the best for our customers!
Voted Best Daily Serum 2018 with the Beauty Shortlist, you're going to find 24hr Rosehip Face Serum really effective even if your underlying skin type is dry, oily, acne, or even rosacea vulgaris. And if you're lucky enough to have normal skin, it will keep it in tip top condition too! With 180 measured pumps, one bottle will last up to 6 months as you only need 1 to 2 pumps of this powerful blend. Remember, a little goes a long way! And if you travel frequently, you'll rejoice at the fact that it's a 30ml bottle so you can even pop it in your handbag on your travels! Top Tip: It's great for wearing on an airplane where the air is more dehydrating while giving a soft glow to your skin.
3. Moisturiser
It is also essential to use a moisturiser as it literally locks in moisture and helps to protect your skin. The uppermost area of the skin, the stratum corneum, is made up of approximately 30% water and lipids which are essential for keeping your skin hydrated. Using a moisturiser literally protects this layer and helps prevent your skin from drying out.
Kinvara's award-winning Active Rosehip Day Cream is a really gorgeous, light anti-aging moisturizer that's very delicately fragranced with lemon and lavender. It's not only moisturises but it also plumps and primes your skin. It's does the plumping part with a really significant amount of Hyaluronic Acid, and as you probably know by now, Hyaluronic Acid is really useful in cosmetics because it has this amazing capacity to bind water, and on your skin that's really going to help with fine lines. Active Rosehip Day Cream also primes your skin beautifully by giving a velvety, matte finish that's ideal for makeup. And of course, it moisturises your skin with the best plant ingredients for that including Rosehip, Safflower and Vitamin E so that your skin will feel really nourished.
At Kinvara, we refer to these 3 essential products for your skincare routine as our 'Best Sellers'.
For a limited time, we're offering 15% off these products using the discount code SKIN15 when you buy our Best Sellers Bundle through this link here or you can choose just one of the recommended products above at normal price here.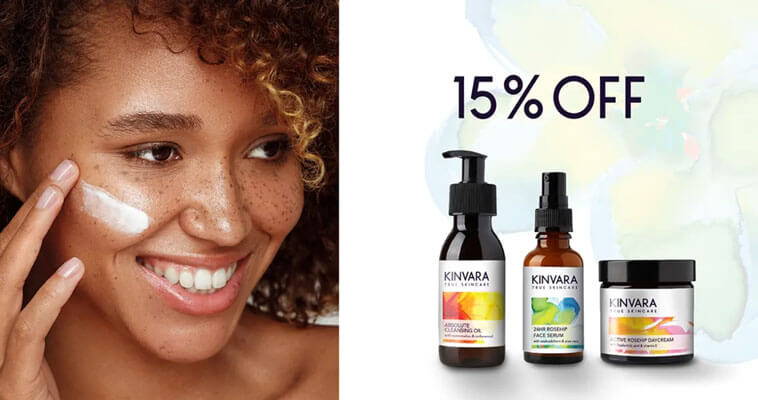 Please let us know if you've any questions below and enjoy trying out Kinvara Skincare's natural products.