It's important not to ignore the delicate eye area and to treat it specifically with a product that's created to target eye concerns such as dark circles, puffiness, under eye bags and fine lines. With consistent use, it is possible to notice a brightening and firming of your eyes in as little as 2 weeks with the right product. Ideally, you should start using an eye product in your 20's or sooner if you have started using makeup earlier.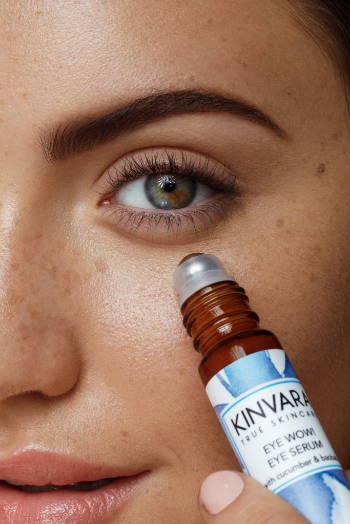 Why do you need an eye product?
The area around the eyes is the thinnest and this is why it's the first to show signs of aging such as fine lines.
The skin around the eyes is under the strain of 22 very active muscles and over 10,000 blinks per day! This repetitive action means the delicate area shows signs of wear and tear quicker than other parts of your face.

The eye area has no sebaceous glands, collagen or elastin fibers making it more prone to dryness and dehydration which highlights fine lines.

Blood and lymph circulation around the eyes may slow as we age. When this happens, signs of tiredness such as shadows and puffiness can appear.
Why choose Eye Wow! Eye Serum?
It's a light, cucumber gel that absorbs superfast. Eye Creams can sometimes lead to congestion & eye oils can take longer to absorb, so a serum such as Eye Wow! Eye Serum will absorb quickly and really get to work fast.

Has a cooling, metal rollerball that allows for less dragging of the skin when applying. And it feels so great to use too! Top Tip: Keep it the fridge for maximum coolness.

Instantly brightens your eyes so you'll notice that your eyes look more awake and fresh straight away.

100% natural with 12 botanical extracts including green coffee, horse chestnut and Baobab to brighten, firm and refresh tired eyes.

Contains no irritants or fragrances whatsoever which is really important for the delicate and often sensitive eye area.

Contains Hyaluronic Acid, nature's filler to plump out fine lines & add hydration.

It's an excellent primer if you use an eye concealer. You'll notice that by plumping out fine lines that your concealer won't emphasise them as often happens concealer sits into wrinkles. Instead, your skin will be primed for any makeup.

Eye Wow! Eye Serum has won multiple awards including Beauty Shortlist Editor's Choice Award 2018 and RSVP Best in Skincare 2018.

Our 2015 survey proved the amazing effects that it has on dark circles, fine lines and puffiness and hydration. See results below.
2015 Survey Results
(Survey size 10 people over 2 weeks)
90% of testers reported significant reduction in puffiness

90% of testers recorded plumper skin and less fine lines.

80% of users saw improvement in dark circles.

100% of testers experienced continuous hydration.

0% Irritation after patch testing
How soon will I notice a difference?
Allow 2-3 weeks to see a difference. Remember that it took more than 2-3 weeks for you to develop dark circles, fine lines and puffiness so give it some time and you'll really see and feel the brightening and smoothing effects and say Wow!